Papago Park is one of the most scenic and easily accessible desert areas in the Phoenix metro area, located in the heart of the city where Tempe, Scottsdale and Phoenix meet. Papago weddings capture the romantic beauty of the desert with stunning views of the Papago buttes, surrounding mountains and golf course – making it one the most majestic backdrops for your wedding.
With our beautiful clubhouse and exquisite golf course as a backdrop, there is no better location in the Valley to host your wedding. Our "Ceremony Lawn" faces the Papago Buttes – creating awe-inspiring wedding photos. These beautiful views, from both inside the clubhouse and from the Ceremony Lawn, make Papago the best location to say, "I do."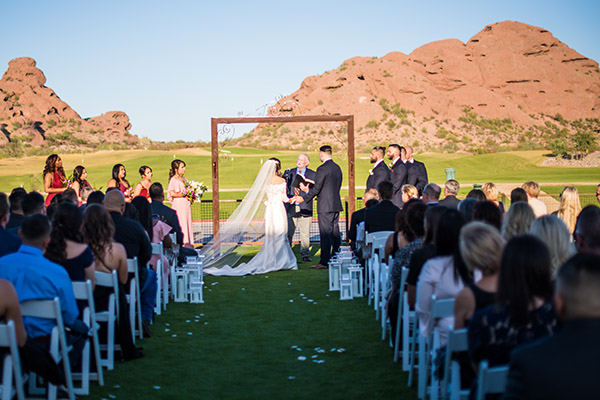 Our Gorgeous venue options offer a perfect open space with an inclusive, indoor-outdoor setting to accommodate an intimate affair or a grand celebration. Enjoy a scenic rehearsal dinner on the wrap-around patio, host a wedding shower in the hip, modern Lou Grubb Clubhouse, celebrate your entire day here – we are your wedding event headquarters!
Learn about our venue and catering options with a full complement of best-in-class resources to fulfill your wedding requirements. We provide a stress-free wedding planning process that will make your special day unforgettable.
Rehearsal Dinner
Whether you want a Gourmet BBQ or International Buffet, sparkling wine and soft drinks, we have a number of food and drinks packages to suit you and your guests' tastes.
The Perfect Ceremony
Stunning views of the Papago Buttes, Camelback Mountain and Downtown Phoenix – you will say your vows on a carpet of green grass, framed by the stark contrast of the red rock of the Buttes. Papago Golf Club harnesses the natural beauty and historic origins of Papago Park to create an unparalleled experience.
Ceremony services include the following:
Access to men's and women's locker rooms to use as bridal suites
Alternate site location in case of inclement weather
Seating set-up & breakdown
Reception
We look forward to helping you make wonderful memories on your wedding day. We will be on hand to guide you through the planning and logistics of your day – and we are always available to answer your questions. We are excited to help you plan a fantastic menu and beverage selections to fit your budget. We can also assist you in selecting and renting the perfect décor to ensure that every detail is covered to make your wedding a one-of-a-kind event.
Set-up & Décor
Our setup includes:
Round Tables and Cocktail Tables
Linen Table Cloths
China, Glassware and Silverware
Candle Votives
Banquet Chairs
White Garden Chairs
Dance Floor
Gift, Cake and DJ Tables
Two Sattelite Bars
Fruit Infused Water Station
We provide cake cutting & plating service, tasting sessions for up to four, and we offer special rates on groomsmen & family golf packages. Please let us know if you require us to book any additional services, such as:
Florists
Lighting specialists
Photographers
Videographers
Wedding Planner
Testimonials
"Getting married at the Papago Golf Course was a dream come true. The buttes of Papago Park provide an iconic background for a fairytale wedding. Kelli and her team delivered a seamless and stress free experience both leading up to our wedding and throughout our special day. I can't speak highly enough about my experience with Papago Events & Weddings; they helped us create incredible memories to be celebrated over a lifetime. Thanks again for such a great experience!"
– Juliana & Eric Richardson
"We met working at Papago over five years ago and there was no question this was where we wanted to seal the deal. Living out of state in Texas could have been a dealbreaker but Kelli and the Papago events team minimized the anxiety of the long distance endeavor. Armed with our planning notebook of questions, Kelli made each visit productive and solved every potential worry. We always left our meetings feeling satisfied and full of relief that Kelli was handling everything. She was also readily available once we were back in Texas and answered every email or phone call with a positive reassuring excitement. The Papago team went above and beyond to support our budget and our dream vision – organizing additional vendors, moving furniture mid event, and communicating well on the day of. The food Chef prepared was delicious and personalized to fit the bride's vegetarian diet and a few vegan friends. The outdoor patio served essential for our older guests and the large venue area made everyone feel comfortable. Both us and our guests had a magical and flawless evening booking with Kelli and her team."
– Taylor and Alex Gargol